What is MOWD?
MOWD (Mike Oldfield Worldwide Discography) is the most comprehensive online discography, compiling every single release related to Mike Oldfield from 1968 to date.
MOWD is an interactive database with three main features:
Editable contents: Collectors can update the general database with yet unlisted items or even revise the ones already listed. Cooperation among collectors will make MOWD a valuable source of information to fill in all the gaps in your lists!
Generate your own collection: Collectors or casual fans can check the items they already have and MOWD will generate individual printable lists for everyone. Just tick the boxes and MOWD will generate your personalised database.
Interact with other users and trade your treasured items: Collectors can trade or sell their spare items with other users for free, or even set items as wanted.
From 1997 to 2002 Mr Rainer Münz's 'Tubular World' was the treasure box of Mike Oldfield collectors. With the same purpose but with a collective spirit and a developed technology, MOWD opens in 2009 to became the Mike Oldfield Collector's Information Vault. From the fans, for the fans!
Collectors from all over the world are welcome to join and make MOWD bigger and better.
MOWD is a side-project from Mike-Oldfield.es team, the largest Internet social network devoted to Mike Oldfield. Register now at www.Mike-Oldfield.es and set your own collection.
Collaborators must read Reference Guide and use MOWD Official Glossary for every new item added to MOWD. Accuracy is extremely important in order to make MOWD a useful tool. Please, make sure the new item you might add is not already on the list and make double sure you correctly fill in the fields. Mods are allowed to edit items and anyone might discuss any item or issue at MOWD Forum.
Reference Guide
Catalogue Number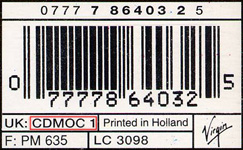 A Catalogue Number (also referred to as "Cat") is the identification number of a release in the catalog of the label under which the release is published.
With only a few exceptions, a Cat is the unique identifier of a release. As a rule, once a MOWD entry has been assigned a Cat, it should therefore not be changed. If your copy of the release has a different Cat then the one listed on MOWD, you must assume that the Cat in the database is correct and that you simply have a different release. Unless you have proof that the Cat does not exist, or there is a typo in it, you should therefore never change an existing Cat, but instead add an additional release with your Cat.
Sometimes the same label has more than one "style" of Cat, and oftentimes the Cat as listed on the jacket/spine will vary from how the Cat is listed on the label's or artist's website. An unfortunately growing trend among some labels is to list the UPC or EAN (barcode) as the Cat: if you notice this on the release you're submitting, take some extra time to scour the print to see if the shorter Cat may be hidden somewhere. Do notice, however, that some labels (e.g. all labels distributed by Universal from 2005 onwards) use UPC- or EAN-style numbers in some countries, but not in others. In this case, separate entries should be made for each respective regional release.
Matrix Information
Run-out groove (normally a code of numbers and letters) etched on the center of the vinyl or printed in the centre of the surface of a compact disc.
How to indentify a German or Dutch release
Until 1982, German and Dutch releases were very similar, both in format, editions and even catalogue numbers. Sometimes, if 'Made in Germany' or 'Made in Holland' were not stated on the sleeve or labels, it was difficult to tell wether it was German or Dutch.
However, there is a key information on labels that helps us to check the country where that mysterious item was released: BIEM or STEMRA. Both words stand for local copyright agencies.
BIEM indicated that item was released for the German market, hence it is a German release.
STEMRA indicated that item was released for Benelux area (Holland, Belgium, Luxembourg), hence it is a Holland release.
In 1982, Virgin stopped producing Dutch pressings and so all of the singles or albums distributed in Benelux were German pressings, hence BIEM/STEMRA is stated on the labels.
Different kinds of labels
Virgin (1973-1978)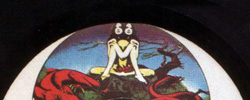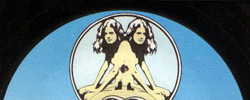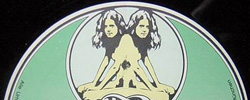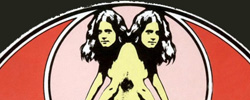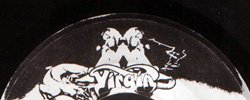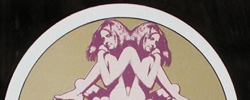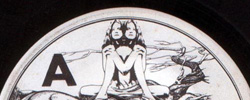 Virgin (1976-1982)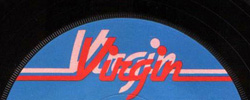 Virgin (1983-1993 Germany) / Virgin (1988-1993 UK)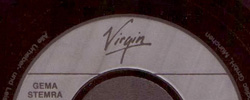 Virgin (1978-1988)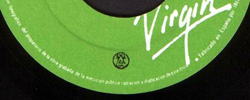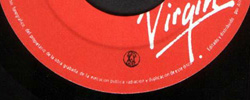 Virgin (1980-1987 France only)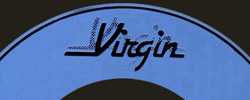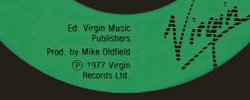 Glossary
PS: Picture Sleeve
No PS: No Picture Sleeve
Promo: Promotional release
WLP: White Label Promo
SOC: Sticker On Cover
SOL: Sticker On Label
FOC: Fold-Out Cover, gatefold cover
WOC: Writing On Cover
WOL: Writing On Label
2CD: 2 Compact Discs release
3CD
3CD + DVD
4CD: 4 Compact Discs release
2LP: 2 Long Plays
2MC: 2 Cassettes
4MC: 4 Cassettes
Contact
If you have any questions, queries, or you simply want to talk about MOWD, please use our forum. Thank you.
MOWD Administrators are: fairlight, felix, Javishadow, killing bell, Mike-Bell, orions, Rainer Muenz, samuli2, zaradeth