21 Noviembre 2009
Tubular Bells III World Premiere
(Enviado por Javishadow)
Tubular Bells III World Premiere
Horse Guard's parade, London, England
4 September 1998
Actually, this concert had been destined to become a disaster from the start. It started when reading about it on the Dark Star web-site. About the world premiere of Mike's new album in London, where he would play a two hour set containing Tubular Bells III in its entirety and excerpts from TB1 & 2, Ommadawn, Songs of Distant Earth and Voyager.
When I read about it, remembering the great (though short) show he gave when I saw him in The Hague 5 years ago, I didn't need long to decide to go to London.

The first problems started with the tickets, which had to be ordered through a special Credit Card Hotline. I phoned this Hotline, operated by booking agency "Solo", to order my tickets but I was friendly, yet resolute refused to buy them. Why? Because I had a foreign credit card. Can you believe that? I didn't even know credit cards could *have* a nationality. As far as I'm concerned all credit card companies are multinationals. Nevertheless I couldn't order any tickets with my Dutch Mastercard.
But of course I wasn't so easily defeated; I still had a genuine, bonafide, UK approved Bank Of Scotland Switch card, which they had to accept. And yes, they could accept it, but only if the tickets could be sent to a British address.
"Excuse me? Can't you here my accent? I'm Dutch! I moved back to Holland 3 months ago!"
The attendant at the ticketline was unrelenting and there was only one option for me in order to get my tickets: Send an order by mail and pay by Eurocheque, allow 3 weeks for the cheque to clear and then pray that I'd receive the tickets in time.
So much for a chance on good seats, since the best seats had already been sold out and the second best tickets were already running fast.

Well, that was some nice gesture to Mr Oldfield's international fanbase, now wasn't it? Of course he can't help it himself, but surely his management could have dealt better with this type of situations.

Four weeks later I still hadn't received anything from the ticket office, and I read on the Web-site how the second-best tickets had been sold out as well, leaving only the cheapest tickets still for sale.
I decided to call Solo again and ask them about my order. "What order? No sir, we haven't received anything from you…" By this time I had already booked the ferry to England and I couldn't cancel that anymore, yet wasn't a sign of my tickets!

I decided to try it the bold way and I phoned some of the other agencies listed as official sellers of the tickets. All of them were already sold out, apart from my very last attempt, an agency called Stargreen. They even had the tickets left that I had originally ordered from the Credit card hotline (the most expensive tickets had also already been sold out with them) and they even accepted non-British credit cards!
Immediately after that I phoned up Solo again and had them cancel my order and asked them to tear up my cheque should it ever arrive. Three days later they sent me my tickets…

So suddenly I had six tickets for the concert. I had to phone up Stargreen again and had them cancel my order (which cost me 1 pound per ticket administration fee).
The tickets Solo had sent me were for Block F, Row U, which was the last row in the farthest block from the stage, before you got onto the elevated tiles (which were all the way in the back, and cheaper)

The next indication that this concert could slightly disappoint was the new album itself. Although it would officially premiere at the night of the concert (midnight at Tower Records) it was already in the shops a week earlier. I bought it immediately in order to get an impression.
Although I did like most of the music on it, it wasn't much more than a sort of revisit of his previous works, with 11 inconsistent pieces of self-plagiarism. But, considering the promises the Dark Star web-site had made, we would get at least 1hour and 15 minutes of decent music!

But still we went, the three of us, on the Friday morning from Beverly to London. The drive over to London lasted just as long as the finding of a space to park the car and find a decent place to stay for the night (approximately 4 hours….)
As our hotel was a bit out of town (we had to be out of London early the next morning) we had to travel quite a bit to the Horse Guard's parade. All this gave us no time at all to actually see something of London; we barely had time for a decent dinner before we made it to the Horse Guard's.

The weather had been pretty good during the day, quite warm and humid, but no rain at all. Well, as soon as we joined the queue at the gates of the site, the first drops started falling and by the time we got in the gates, it was pouring down on us. Tell me again why so many artists love outdoor gigs so much?

At the entrance there was a bag-check, and I feared I wouldn't be able to get my photo-camera in. A very nice lady asked me kindly whether I had any photo-equipment with me. I answered honestly (since 200mm lenses are a bit difficult to hide under your shirt) and she told me that I was allowed to take it with me, as long as I took the film out. Since this was the film I had used the night before at the Australian Pink Floyd gig, and only had three shots left, I didn't really mind doing so. Naturally I didn't tell this lady anything about the four spare films I had in that very same bag!!! :-)

We walked over to block F (way, way in the back) only to find out that row U didn't even exist!!! So much for ordering your tickets somewhere abroad. While I was cursing out loud on this Solo agency we walked over to one of the attendants to give him the full load about having tickets for a non-existing row. It turned out that row U had been taken out in order to put a camera-rail in for the film crew. I was steaming at that moment and I was about to explode when we were handed over to another guy who told us that we would get different seats. I explained to him all the troubled we had had in even getting those tickets in the first place and after a thoughtful look he gave us three tickets with the words: "Don't worry, these are even better seats, these are 30 pound ones you know…"

And so it came that we ended up on the tenth row from the stage, pretty close to the centre. It was actually one of the VIP rows, so we were surrounded by friends and relatives of Mr Oldfield himself. Right behind me were three girls who I later labelled as his daughters (judging from their conversations). By this time the rain had stopped as well and the show was about to begin in 5 minutes.

Or so we thought…..

As Murphy's law enforces, a concert destined to be an absolute disaster is not allowed to contain too many strokes of luck. And since we already had three in a row (the camera, the seats and the end of the rain) it could only become far and far worse than my worst nightmare could foresee.

A man came onstage and asked the audience to be quiet and welcome….. tonight's *special* guest…. Mr….. Martyn Joseph!!!
What???
Who???
I though we were here to see Mike Oldfield???
Apparently a last-minute support act had been put in and this man said it best when he stated that: "So there had to be a support act, and it had to be me."

He played some mellow folky guitar/vocal songs, which were nice to hear, but a bit boring. He lived up his performance with some funny jokes and introductions between the songs ("At this point I normally introduce my band, but nobody showed up..")
We decided that this would be a good moment to join the (very long) queue at one of the merchandise stands.

Half an hour later we were completely soaked (yes it had started raining again) and it was finally our turn to order.
"Three black T-shirts please"
"I'm sorry, the person before you *just* bought the last one…"
I looked behind me and saw the queue stretch for about thirty yards and I knew this had to be a joke, so I asked again.
I should have know, it was *not* a joke. Two of the three types of shirts had already been sold out (only the £20 poloshirts were left) *before* the concert had even started and before half the audience had even reached the merchandise stand.

This is definitely the most pathetic thing I have ever seen at a concert. I know Mr Oldfield is a bit short of cash (why else would he name his new album after his biggest success and charge 30 quid a ticket for the concert?) but that he doesn't even have the credibility to order a few T-shirts? Unbelievable.

We got back to our seats in time to hear Martyn Joseph finish his set and to see the same announcer coming onstage with the following message (and this is *not* a joke)
"We're going to have an intermission now. We would like to ask everybody to return to their seats by 8.55, as Mike Oldfield will start at exactly 9 o'clock."
This announcement came at 8.35, while the rain was pouring down and there wasn't a single spot in the area where people could shelter….

Needless to say I had already formed an opinion about this concert before Mike had even started playing.

Then the stage lights dimmed, the bells at the Horse Guards announce 9 o'clock and a camera-man motioned the band to start playing. The 9-piece band, consisting 5 males (a percussionist, a drummer, 2 keyboardplayers and a guitarist) and 4 females (percussion, bass, piano and cello) started playing the original version of Tubular Bells.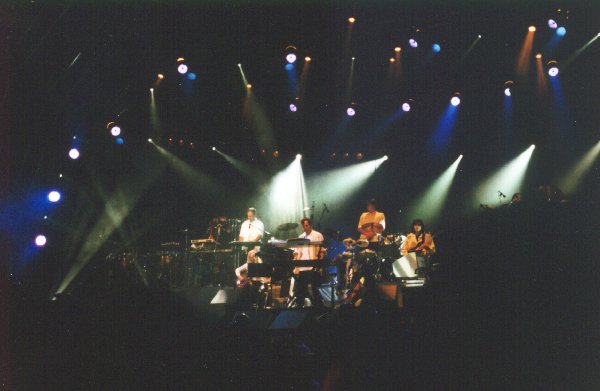 It sounded marvellous and while I feared that most of the concert would be played from a tape and mimed by the band (which had happened with some instruments and the vocal parts during the TBII tour) tonight they definitely played live. Or, at least the first part of the show they did.
This could easily be heard when the pianist forgot to play while she turned a page of her music-sheet. Although it was a bit of a stupid mistake, I loved it. These types of things are what give that "live" feeling to a performance. Having seen Oldfield once before, and also Jarre and Vangelis and all three concerts clearly being faked, it occurred to me that instrumentalists just can't work without tapes. Mike Oldfield here proved the opposite. Or at least, he did for a while.

After about three minutes Mr Oldfield himself came onstage, with his new look, which makes him look a lot younger than he actually is. He swung a guitar around his back and played most of the guitar-parts of Tubular Bells.

The stage had some pretty impressive lighting, however the director had absolutely no sense of using it. After about five minutes all colour combinations had been made and the sequence started all over again. This made the show look pretty boring.
Another minor part was that the show was being recorded for TV broadcast, which meant that lights were also shining on the audience. Although this may look nice on TV, it created absolutely *no* atmosphere from the audience's point of view.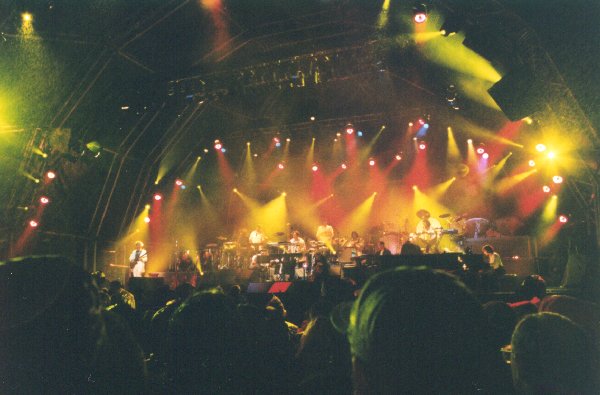 The band played a large chunk of side one of Tubular Bells, which I think flew into a part which is on side two. It finished with a brilliant guitarsolo by Mike, about 14 minutes after it had started.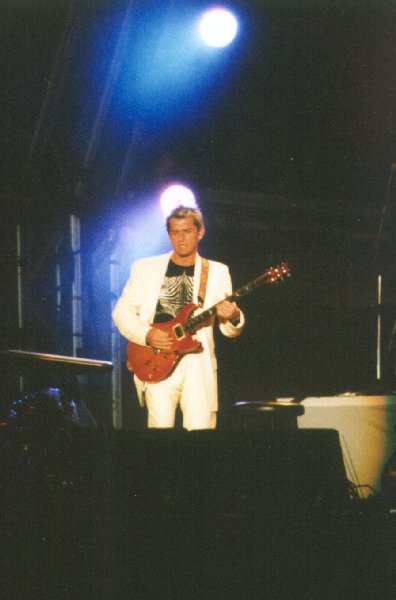 This version of Tubular Bells had sound so fresh and lively to me that I had completely forgotten about the rain. They played it pretty much similar to the album version, but it just sounded less rough to me. It was much more balanced and more complete than the original.
Without a word the band continued with the next song, which started with either a synthesiser or a tape faking wind and rain. Immediately I became aware of the cold water still pouring down on me. Mike motioned the band to start playing, as apparently they were running on a very tight schedule (more on that later).

The first song of Tubular Bells III began, with the semi-dance version of the Tubular Bells-piano theme. Mike called it The source of secrets on his album, but I still don't know what the secret is. I hate this song!
It also occurred to me that the glockenspiel that percussionist Alasdair Malloy was playing suddenly sounded completely different than it had sounded during the previous song. A bit strange since, as far as I know, glockenspiels only have *one* sound. A glockenspiel sound! The sound that came from it now sounded more like a synthesiser or a tape… So much for a live-performance. The guitars were definitely live though (but far from flawless) And so was some of the percussion and the vocals which appeared half way during this song, sung by Amar.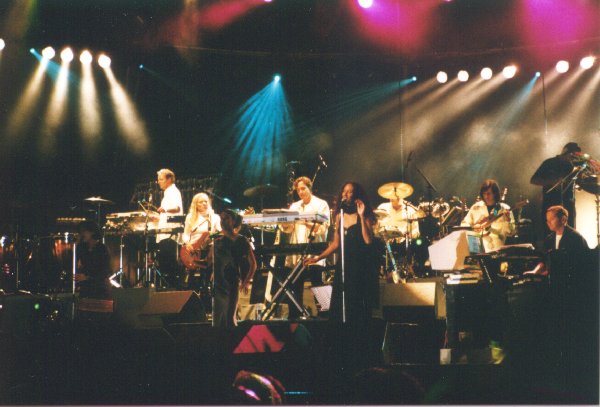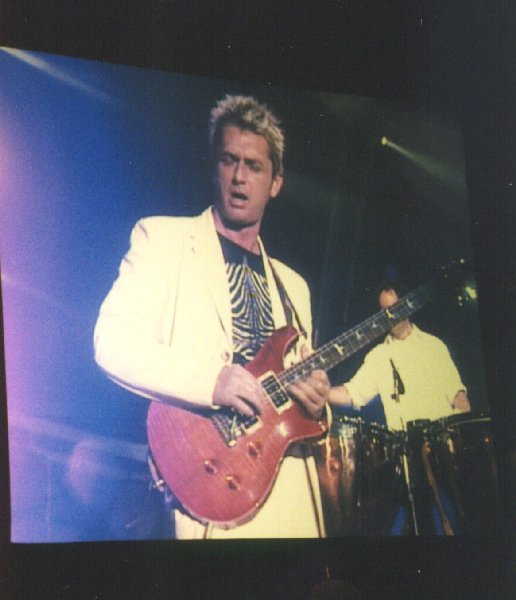 Since the album isn't really a consistent piece of music, Derk and I had already been wondering what the use was of playing it in its entirety. Apparently Mike Oldfield had different thoughts on that matter, as the band continued with the next track of the album The watchful eye.

During this song it became clear that parts of the music were definitely on tape: Percussionist Alasdair began playing water-filled champagne-glasses!! Two octaves of half-filled glasses had been arranged like a piano-keyboard, and he was rubbing against the edges of the glasses, creating a very synthesiser-alike sound.
Now I know that in theory it is possible to fill up 25 champagne-glasses and put a little drop more water in each glass, creating a musical scale. But, even *if* Oldfield had the patience, money and skills to tune these glasses in this way, it would still be impossible to keep them tuned the whole night, as due to the heat of the all the spotlights above the stage, the water will surely begin to evaporate, thus detuning the glasses!
And besides that, he already had a tape running for all the other effects and some of the instruments, so why bother?

The song was followed by a mediocre Jewel in the crown.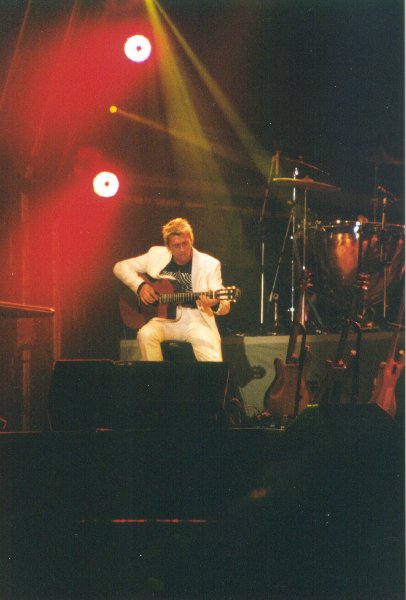 After this Songs of Distant Earth clone it was time for some real work: Outcast. Although this song sounds pretty lame and out-dated on the album, the live version was absolutely brilliant! Good guitar playing of both Mike, guitarist Hugh Burns and even keyboard-player/conductor Robin Smith.
Too bad this song only lasts 3 and a half minute. It was followed by the not quite Spanish-tune Serpent Dream where Robin Smith and percussionist Jody Linscott made themselves look absolutely ridiculous by acting as if they were playing the computerised handclaps live.

The Inner Child followed, with live vocals by Rosa Cedrón. This version sounded much much better than the album version, as Rosa was really screaming on top of her lungs here. (compared to her humming on the album…)

Next song up was Moonlight Shad… err.. Man in the rain. No comments here, it's a nice tune, but an almost exact copy of Moonlight Shadow. It was funny how this song was not sung by Amar, who sings it on the album, but by ex-Wham! backing vocalist Pepsi Demacque.
Halfway during this song the light-engineer decided to call it a day and switched all the lights off. The stage was completely dark for about 10 minutes, but, as the show (or the tape) was on a tight schedule, the band just played on.
While they were trying to solve the problems with the lighting, some of the lights that originally shone on the audience were pointed at the stage.

About ten minutes later, when the band was already halfway through the next song Top of the morning the lights came back on. It was pretty funny to see how the computer-program, controlling the lights, had to be fast-forwarded to the correct point in the show before the lights could be switched back on. The lights just spun and twisted like crazy!

Top of the morning was pretty well played, with the piano parts being played live, different than the computerised piano-riff that is on the album.
The next song Moonwatch started well, but with the climax it went completely wrong. It sounded as if either Mike's guitar was too early, or the chords from the synthesisers were late. Anyhow, it didn't sound right to me.
Next song was Secrets the reprise of The Source of Secrets which still isn't worth any mention.
After this song it was already time for the "climax" of the show Far above the clouds. I was really amused to see the smallest of the three girls that were sitting behind me appear on the large video screens, mumbling some words in a *completely* different voice than she had had when I heard her speak before the show. Apparently the girl who had originally spoken those words was considered too young to be on TV, so Oldfield had his 10-year old daughter Greta mime the words instead.

While Greta was mumbling her lines on the video screens Mike disappeared from the stage. I saw some chains being lowered at the back of the stage and I expected Mike to appear with a huge set of Tubular Bells there, like it had happened at the TBII concerts. Unfortunately the bells were being played by Alasdair Malloy and the chains at the back of the stage hauled up three tin-foil bells, forming III amidst some fireworks.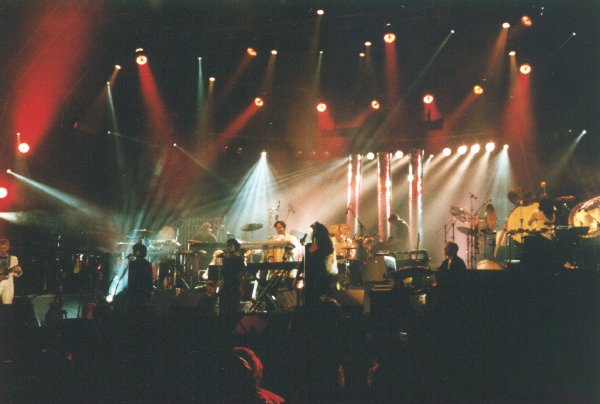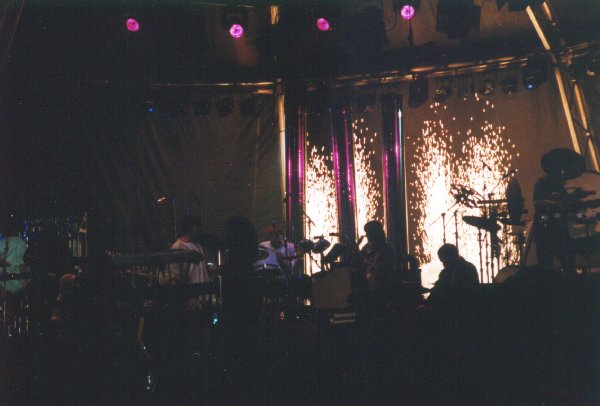 Mike appeared back onstage to play some more firing solos and the finale actually sounded fantastic. It finished *exactly* at ten o'clock. According to some rumours it had to end at ten because the Big Ben would play the final bells that can be heard on the album. And although the Big Ben was shown on the video-screens nobody actually heard them as everybody was applauding and all the people from the back came running towards the stage.

Mike thanked everybody for coming and he told us how the song Man in the rain had got such a special meaning to him when he saw us all sitting in the rain. (Had I mentioned before that the stage itself was covered and that the musicians stayed completely dry?)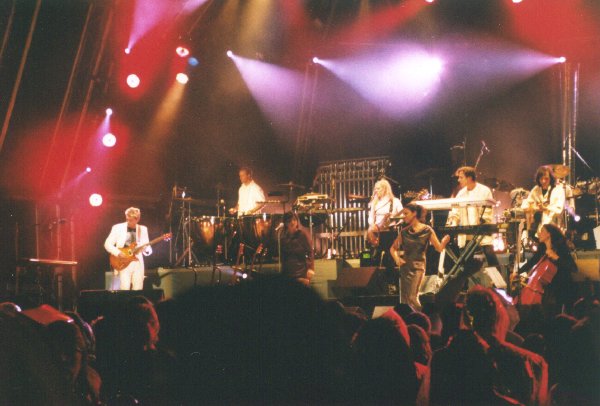 "You may remember this one" introduced Mike the next song, which was the original version of Moonlight Shadow. The crowd went mental and I sung out loud with the song. This song was sung by Pepsi again.
After some very extended solos (no more tight-schedule I guess) the band played yet another favourite of days gone by: Family Man.
Although Pepsi managed to screw up the powerful ending of the song completely it was still a pretty good version.

When this song had finished Mike motioned the bandmembers one by one to bow to the audience, before they left the stage.
I had already started fearing that the concert wouldn't be exactly as advertised on the Dark Star magazine, and I began to wonder what the encores would be.

After a few minutes the band came back onstage to play…. Secrets!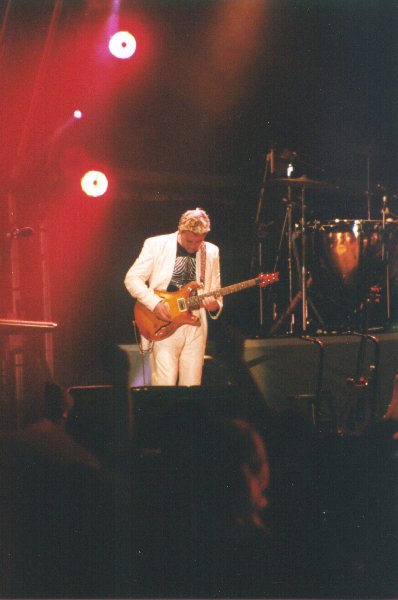 Now if there is one thing I really hate at a concert is when an artist with a twenty-five year career plays a song twice. Considering Secrets is a reprise of The source of secrets he actually played it *three* times. Count to that the fact that I think that it's the worst song he has ever composed, you can guess my reaction to his "encore".
The song was followed once again by Far above the clouds during which Alasdair managed to play some drums, while the tubular bells played itself - brilliant :-/

The band left the stage again and did not come back anymore….

I must say that I am really disappointed with this concert. After we got back to the hotel I felt really badly about it. Although Oldfield can't do anything about the rain spoiling the whole event, I think that 30 pounds for 1 hour and 25 minutes of music is a *very* steep price. And considering that I paid about a week's salary to get to London I hate to say that it wasn't worth it.
This event was advertised as "something London hasn't seen in a long while". Of course that can mean anything. It could mean that people could watch and hear the concert for free from St James Park, but somehow I don't think that was what they meant.

After the show I read on the Amarok mailinglist a suggestion that maybe Mike didn't play any older stuff because he feared that it would generate a better response from the audience than the new work. This may seem very true, especially when considering the kind of crap his new album actually is. But if this really is the reason for the change in the setlist, than it is also the most pathetic reasoning in music-history.
Band:
Mike Oldfield - Guitars, Keyboards
Robin Smith - Keyboards
Adrian Thomas - Keyboards, Programming, Guitar, Conductor
Carrie Melbourne - Bass Guitar, Chapman Stick
Hugh Burns - Guitar
Katherine Rockhill - Piano
Ian Thomas - Drums
Jody Linscott - Percussion
Alasdair Malloy - Percussion, Champagne Glasses, Tubular Bells
Rosa Cedrón - Cello, Vocals
Pepsi Demacque - Vocals
Amar - Vocals
Setlist:
Excerpt from Tubular Bells
Tubular Bells III:
The source of secrets
The watchful eye
Jewel in the crown
Outcast
Serpent dream
The inner child
Man in the rain
The top of the morning
Moonwatch
Secrets
Far above the clouds
Moonlight Shadow
Family man
Secrets
Far above the clouds
Taken from here