30 March 2023
2 Opinions
(Sent by fairlight)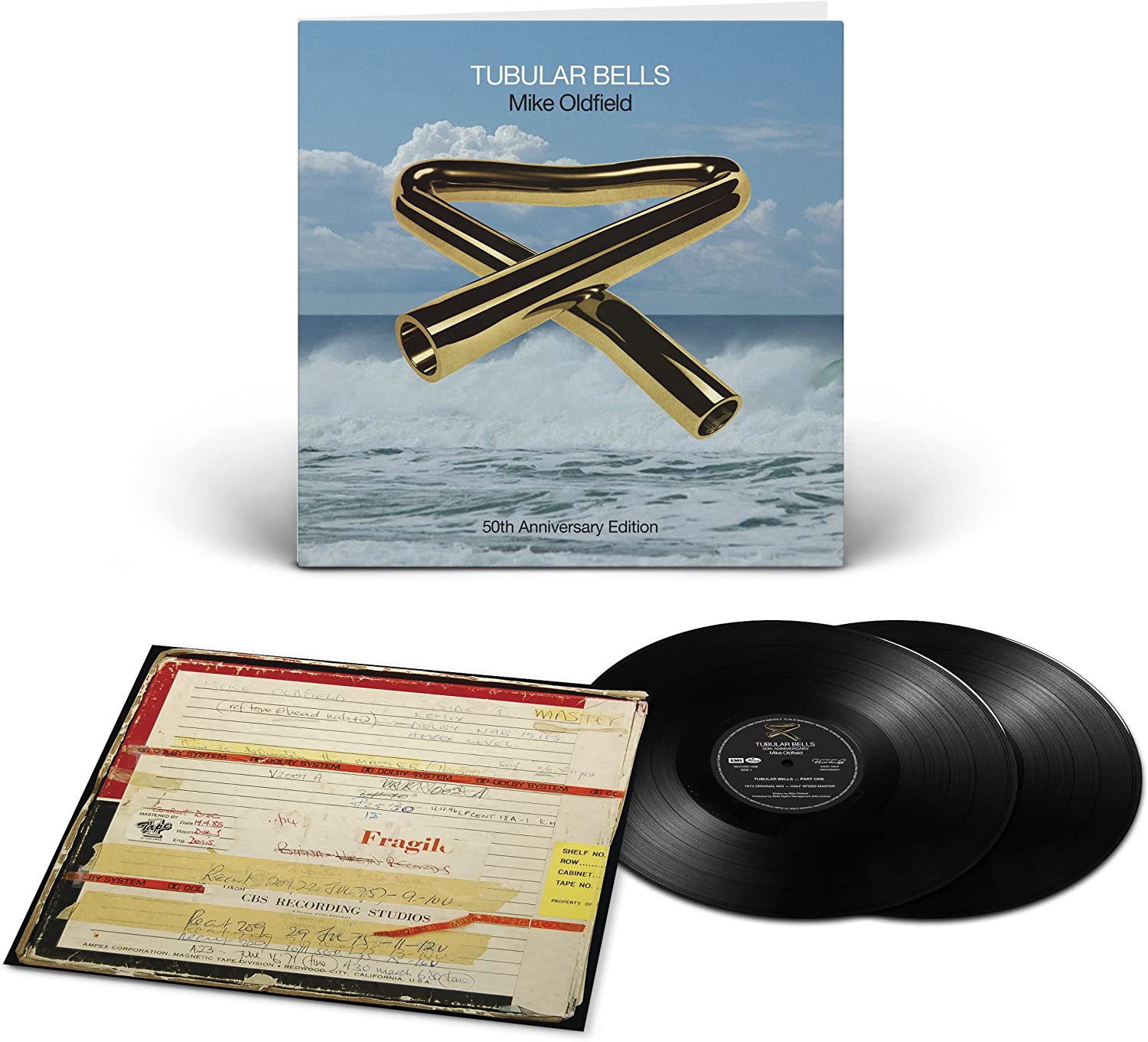 El fin de semana pasado supimos gracias al blog Mike Oldfield - Exposed de la filtración del próximo lanzamiento de Mike Oldfield, una reedición de 'Tubular Bells' coincidiendo con su 50º aniversario. Hoy tenemos algunos datos más, también gracias al blog de JJ. Existen 2 notas de prensa aparecidas en tiendas online, una breve y otra ampliada. La primera dice:
El icónico Tubular Bells de Mike Oldfield se reedita en conmemoración de su 50º aniversario. Esta colección especial incluye una maqueta inédita realizada hace 5 años que, por aquel entonces, iba a ser el inicio de una nueva versión del 50º aniversario de esta obra. Sin embargo, Mike Oldfield se retiró, y esta introducción de 8 minutos quedó archivada. Rescatada para esta ocasión, Tubular Bells 4 Intro es la conclusión a la vida increíble de este histórico álbum y puede que sea la último que grabe Oldfield en su carrera.
Según el texto de Universal, se confirma que el silencio que sucedió a la publicación del último LP de Oldfield, 'Return to Ommadawn', se correspondía con una retirada (¿definitiva?) de la música. Ya analizamos este silencio tanto en 2018 (Seguimos a la espera de Tubular Bells 4) como en 2022 (Sin noticias de Oldfield en 2022, pero el tubo sigue sonando).
En la segunda nota de prensa, se amplía este tema:
Mike Oldfield se retiró de publicar música en 2018 después de haberse retirado de los escenarios años atrás. En los meses que siguieron a su últim álbum, Return to Ommadawn en 2017, Oldfield barajó la idea de lanzarse a la composición de una cuarta y última entrega de Tubular Bells coincidiendo con su 50º aniversario. Se puso manos a la obra y dio con el secreto para regresar y recrear el tema de apertura. Envió una fascinante muestra de 8 minutos a su equipo de A&R (enlace entre artistas y discográfica). Y después, la nada. Mike tomó la decisión de no proseguir. Cinco años después, este último párrafo de la historia de Tubular Bells se publica como parte de la connemoración de su 50º aniversario.
No es la primera vez que Mike Oldfield toma la decisión de retirarse: ya lo hizo en 2006, cuando vendió el resto de guitarras que aún no había vendido en aquellos años, y regresó intermitentemente para los proyectos Music of the Spheres, Man on the Rocks y Return to Ommadawn. Pero sí que es cierto que habíamos pasado de anunciar un TB4 con proyecto multimedia al silencio más absoluto, envuelto en rumores sobre su estado de salud. Parece que no sólo los seguidores de Oldfield dejamos de tener noticias de él, sino también la propia Universal.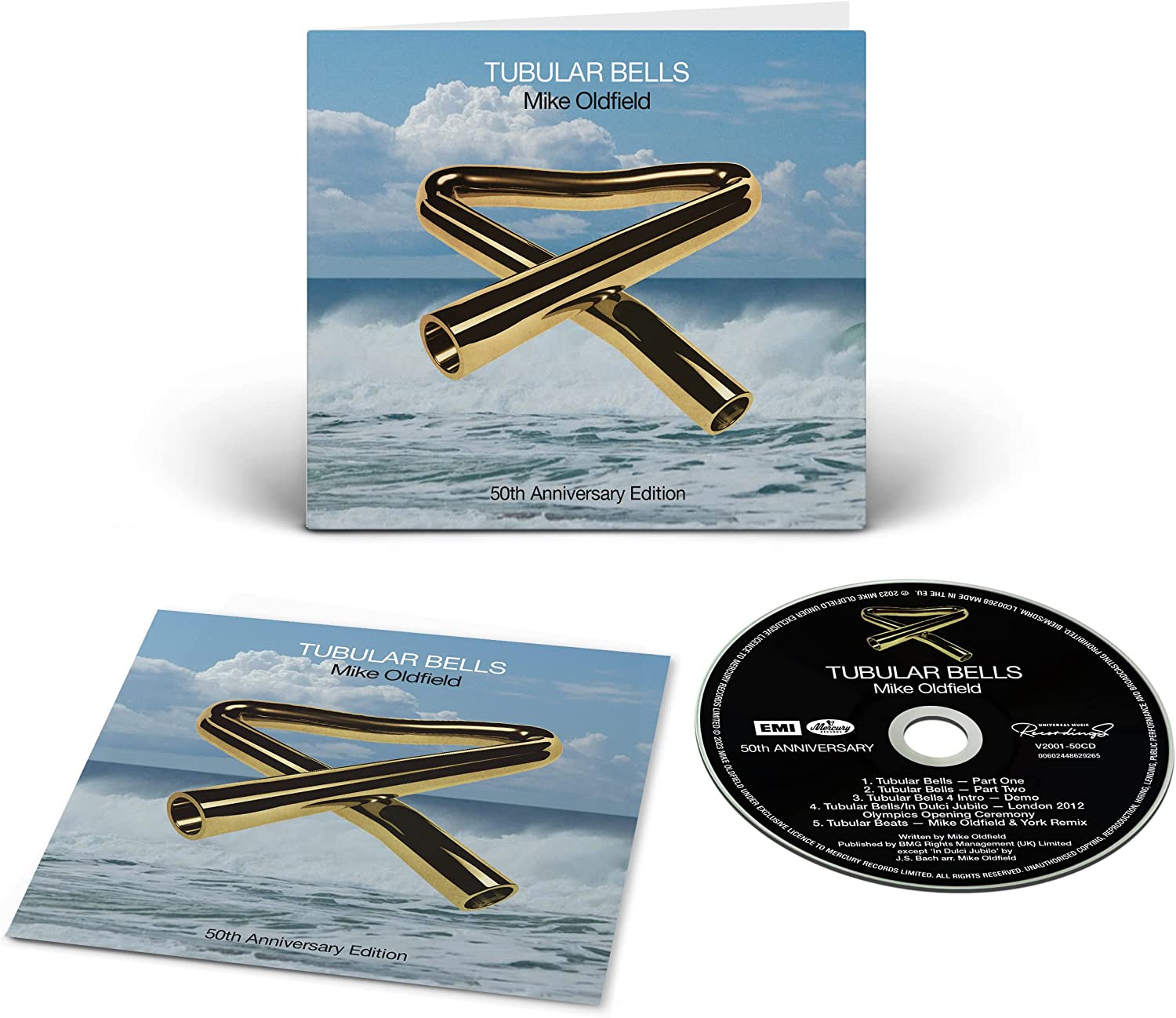 De este modo, 'Tubular Bells (50th Anniversary Edition)' no es sólo el disco que celebra las bodas de oro del clásico de Oldfield, sino un más que previsible epílogo a su carrera. Se publicará el próximo 26 de mayo de 2023. A falta de confirmación oficial, el tracklist del CD es:
Tubular Bells Part I
Tubular Bells Part II
Tubular Bells 4 Intro (Demo)
Tubular Bells / In Dulci Jubilo (London 2012 Olympics Opening Ceremony)
Tubular Bells (Mike Oldfield & York Remix)
En el caso del 2LP, el contenido es ligeramente diferente:
LP1 (2023 Half Speed Master by Miles Showell)
Tubular Bells - Part One
Tubular Bells - Part Two
LP2
Tubular Bells 4 Intro (previously unreleased demo)
Tubular Bells/In Dulci Jubilo (Music for the Opening Ceremony of the London 2012 Olympic Games)
Tubular X
Tubular Bells (Mike Oldfield & YORK Remix)
Mike Oldfield's Single (Theme From Tubular Bells)
Es decir, en el vinilo tenemos una nueva masterización "half-speed" de Tubular Bells (se supone, pues, diferente a la de 2016). En el segundo LP, a los temas del CD se le suma el 'Mike Oldfield's Single' original de 1973 (diferente a la remezcla que acompañó a la reedición del 2009) así como 'Tubular X', la pieza de Mike Oldfield que interpolaba elementos de la sintonía de 'Expediente X' de Mark Snow.
ACTUALIZACIÓN 31/3/2023: Nuevas informaciones obtenidas de otras tiendas de discos online parecen confirmar fecha y contenido de este lanzamiento. Ya está disponible la nota de prensa oficial en la sección Documentos de la web.
Segundo lanzamiento oficial relacionado con el aniversario tubular

Hace unas semanas Universal ya había anunciado la publicación de 'Opus One' para el 22 de abril, un LP exclusivo del Record Store Day, a la venta inicialmente sólo en tiendas de discos físicas afiliadas a esta iniciativa. El contenido de 'Opus One', las maquetas originales de Tubular Bells, no es inédito, sino que se publica por primera vez en vinilo. Más información.