7 Agosto 2014
The Studio Albums: 1992-2003 [Nota de prensa]
(Enviado por fairlight)
Mike Oldfield es de sobra conocido por su obra sinfónica de 1973, Tubular Bells, un disco que estuvo en la cumbre de las listas en su Gran Bretaña natal y fue merecedor de un Premio Grammy en 1975. Durante su andadura de más de una década con Warner Bros., el compositor y músico editó cuatro entregas de la secuela además de otros cuatro eclécticos álbumes de estudio.
Rhino recoge estos ocho álbumes en una antología que se presenta en una caja. The Studio Albums 1992-2003 sale a la venta el 21 de Octubre como una colección de 8 CDs. Tras dejar Virgin Records Oldfield firmó con Warner Bros. en 1992 lanzando la primera entrega de la secuela, Tubular Bells II, que llegó a lo alto de las listas británicas. Tom Newman (ingeniero del original) y Trevor Horn se unieron a Oldfield como productores del álbum que incluía los singles "Sentinel," "Tattoo" y "The Bell." En 1998 le siguió Tubular Bells III y a continuación el siguiente año otra entrega llamada, The Millennium Bell. Con Tubular Bells 2003, Oldfield revisita el álbum original y volvió a grabarlo aprovechándose de los avances tecnológicos que no estaban disponibles a principios de los setenta en los estudios de grabación.
Los otros cuatro álbumes recogidos en esta colección reflejan un amplio rango de estilos musicales que dan comienzo con la continuación de Tubular Bells II, su disco de 1994 The Songs of Distant Earth. Inspirado en una novela del mismo nombre escrita por el maestro de la ciencia ficción Arthur Clarke. Clarke aprobó el resultado e incluso llegó a escribir un texto para el álbum.
La caja The Studio Albums 1992-2003 contiene los 8 álbumes: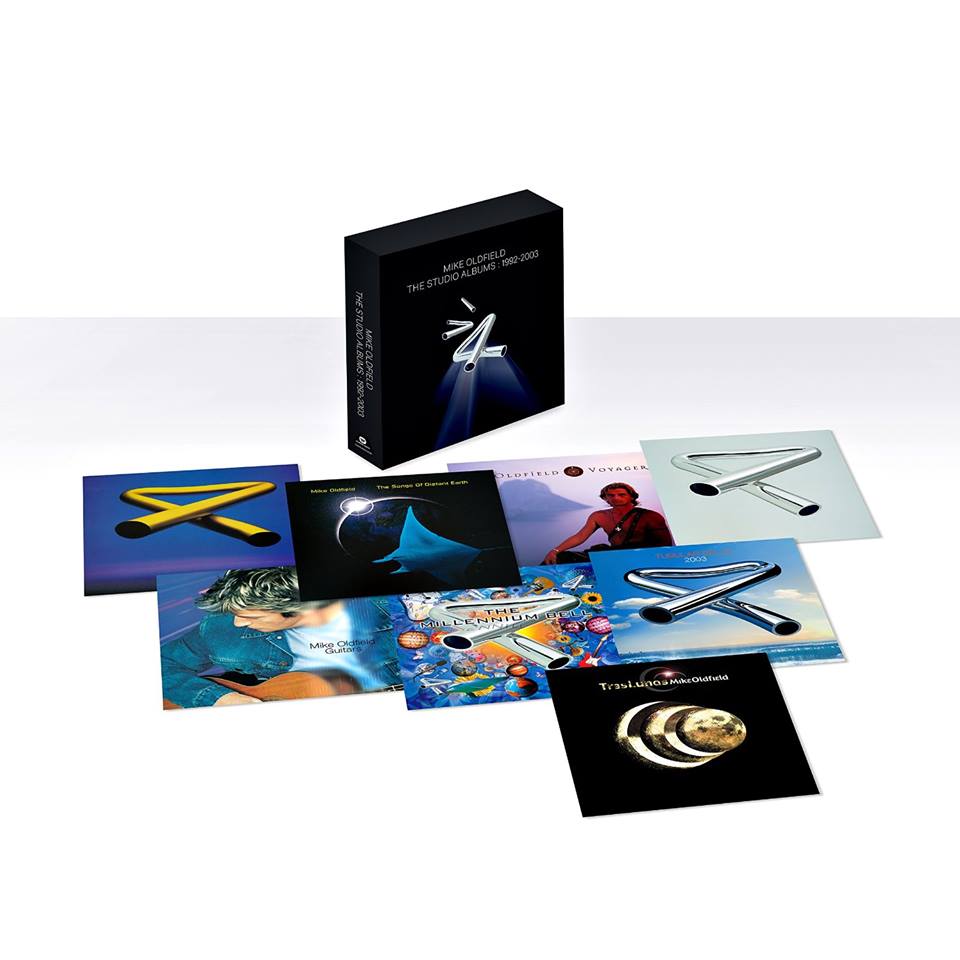 - Tubular Bells II
- The Songs Of Distant Earth
- The Voyager
- Tubular Bells III
- Guitars
- The Millennium Bell
- Tr3s Lunas
- Tubular Bells 2003
Tracklisting:
1) Tubular Bells II
1. Sentinel
2. Dark Star
3. Clear Light
4. Blue Saloon
5. Sunjammer
6. Red Dawn
7. The Bell
8. Weightless
9. The Great Plain
10. Sunset Door
11. Tattoo
12. Altered State
13. Maya Gold
14. Moonshine
2) The Songs Of Distant Earth
1. In the Beginning
2. Let There Be Light
3. Supernova
4. Magellan
5. First Landing
6. Oceania
7. Only Time Will Tell
8. Prayer For The Earth
9. Lament For Atlantis
10. The Chamber
11. Hibernaculum
12. Tubular World
13. The Shining Ones
14. Crystal Clear
15. The Sunken Forest
16. Ascension
17. A New Beginning
3) The Voyager
1. The Song Of The Sun
2. Celtic Rain
3. The Hero
4. Woman Of Ireland
5. The Voyager
6. She Moves Through The Fair
7. Dark Island
8. Wild Goose Flaps Its Wing
9. Flowers Of The Forest
10. Mont St Michel
4) Tubular Bells III
1. The Source Of Secrets
2. The Watchful Eye
3. Jewel In The Crown
4. Outcast
5. Serpent Dream
6. The Inner Child
7. Man In The Rain
8. The Top Of The Morning
9. Moonwatch
10. Secrets
11. Far Above The Clouds
5) Guitars
1. Muse
2. Cochise
3. Embers
4. Summit Day
5. Out Of Sight
6. B Blues
7. Four Winds
8. Enigmatism
9. Out Of Mind
10. From The Ashes
6) The Millennium Bell
1. Peace On Earth
2. Pacha Mama
3. Santa Maria
4. Sunlight Shining Through Cloud
5. The Doge's Palace
6. Lake Constance
7. Mastermind
8. Broad Sunlit Uplands
9. Liberation
10. Amber Light
11. The Millennium Bell
7) Tr3s Lunas
1. Misty
2. No Mans Land
3. Return to the Origin
4. Landfall
5. Viper 6. Turtle Island
7. To Be Free -
8. Firefly
9. Tres Lunas
10. Daydream
11. Thou Art In Heaven
12. Sirius
13. No Mans Land (Reprise)
8) Tubular Bells 2003
1. Introduction
2. Fast Guitars
3. Basses
4. Latin
5. A minor tune
6. Blues
7. Thrash
8. Jazz
9. Ghost Bells
10. Russian
11. Finale
12. Harmonics
13. Peace
14. Bagpipe Guitars
15. Caveman
16. Ambient Guitars
17. The Sailor's Hornpipe