24 Czerwiec 2019
47 Opinie
(Wysłane przez fairlight)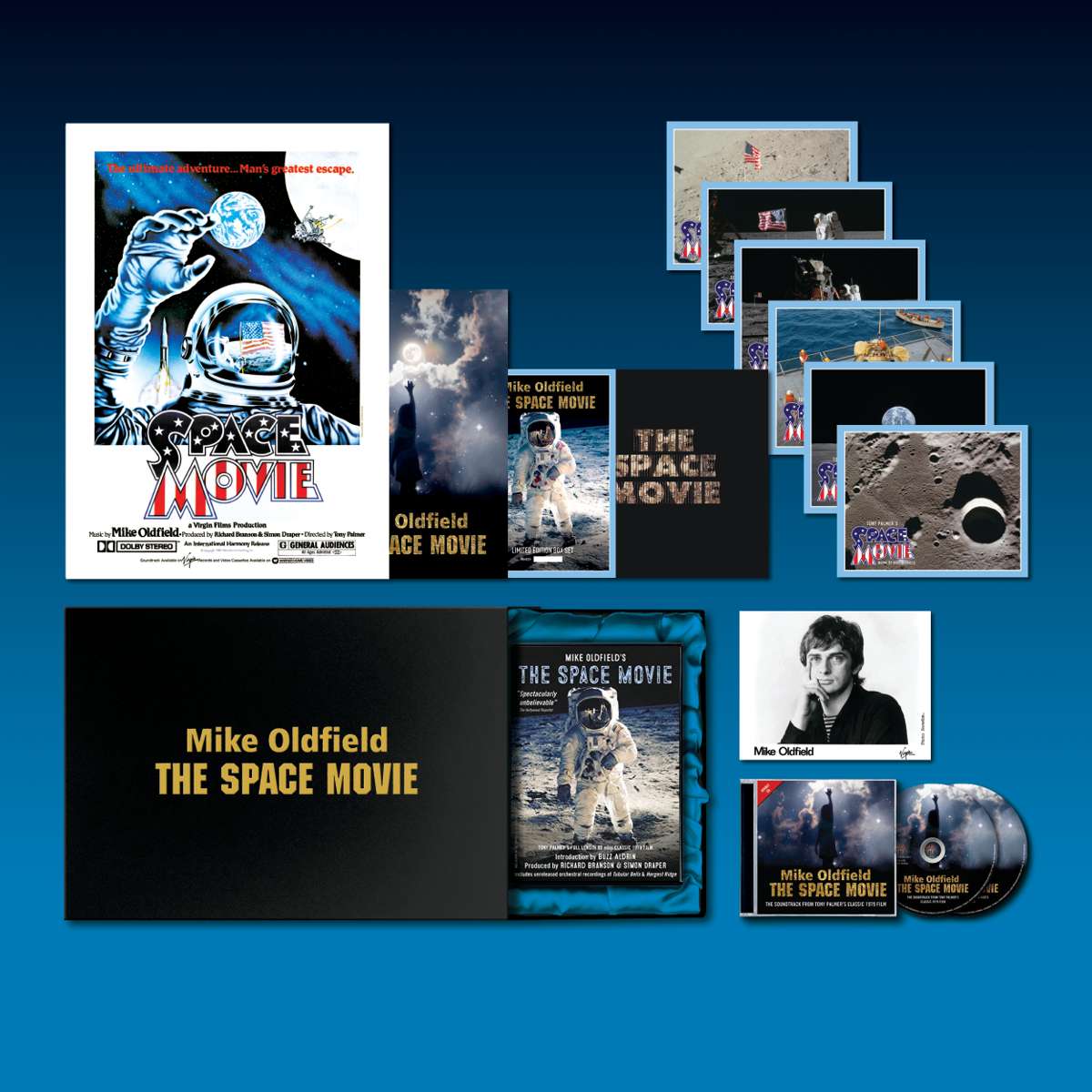 El sello británico Bespoke Editions acaba de publicar una reedición de lujo de la película de 1979 The Space Movie y su correspondiente banda sonora, con música de Mike Oldfield.
The Space Movie fue un proyecto del realizador Tony Palmer, distribuido por la efímera Virgin Films, para conmemorar el décimo aniversario de la llegada del hombre a la Luna, en el que se combinaban imágenes de la NASA con música de Mike Oldfield.
Más allá de la belleza artística de la obra, uno de los principales atractivos de The Space Movie ha sido siempre el hecho de que incluyeran grabaciones de Oldfield que nunca más vieron la luz de forma oficial. Según cuenta el propio Palmer, a pesar de que Oldfield había accedido a involucrarse en el proyecto hasta el punto de componer la música que serviría de banda sonora, a falta de 2 meses para el estreno de la cinta, Oldfield sólo tenía grabado un tema de 7 minutos. Por aquel entonces, iba compaginándolo con la composición del que luego acabaría siendo Incantations. En vista de que se les echaba el tiempo encima, Richard Branson le facilitó a Palmer una grabación inédita de The Orchestral Hergest Ridge, y la banda sonora se acabó completando con partes de The Orchestral Tubular Bells, Ommadawn, así como algunas maquetas del aun inacabado Incantations.
The Space Movie se publicó en VHS en los 80 y fue rescatada en 2007 en DVD. En 2015 Gonzo Multimedia publicó una edición en CD+DVD, anunciada como "la banda sonora original", pero en realidad el CD contenía simplemente el audio de la edición en DVD en una única pista, con una calidad decepcionante y sin rescatar los temas originales: es decir, tanto las voces de los vídeos como la narración se superponen.
En esta edición en cofre de lujo, además de la película en DVD y de reproducciones de material promocional de la época, se incluye un doble CD con el siguiente contenido:
CD1
The Orchestral Hergest Ridge Pt 1
The Orchestral Hergest Ridge Pt 2
Ommadawn Pt 2 (extract)
Ommadawn Pt 1 (extract)
CD2
The Orchestral Tubular Bells Pt 1 (extract)
Tubular Bells Pt 2 (extract)
Incantations Pt 1 (extract)
Incantations Pt 2 (extract)
Incantations Pt 3 (extract)
Incantations Pt 4 (extract)
¿Significará esto que se han rescatado las grabaciones originales por fin? ¿O simplemente se ha aprovechado el audio del DVD para repartirlo en 2 discos? La respuesta la podrán aportar aquellas personas que adquieran el cofre por el módico precio de 88€.
https://www.musicglue.com/bespoke-editions/products/tony-palmers-the-space-movie-box-set-with-music-by-mike-oldfield
Komentarze

"Solo por contener la mejor canción vocal de su carrera, que es el tema que da nombre al disco, esta obra debe tener mucha mejor nota de la que tiene. Castaway, Dreaming in the Wind o Moonshine son otros temas muy muy buenos, que superan (en mi opinión) la mayoría de temas de Islands, Earth Moving o incluso si mi apuras, de Discovery (bueno, solo superarían a dos o tres temas de este último disco).Vivan las pelotas de Oldfield por componer, a estas alturas de la película, el tema Man on the rocks. Una puta obra de arte vocal."
9,5/10
.
Diegales, 2/4/2020
Czy chcesz wyrazić swoją opinię?