18 July 2020
10 Opinions
(Sent by fairlight)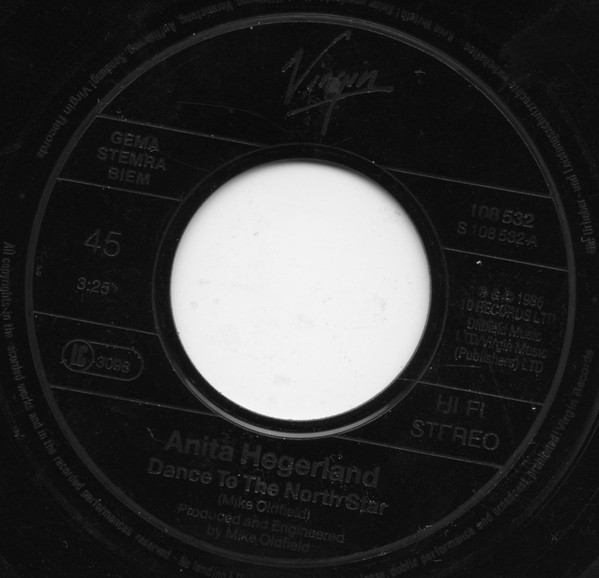 Desde hace años ronda el misterio en este foro acerca de un título que consta registrado con Mike Oldfield como autor, y del que no se parecía saber nada, sólo el nombre: Dance to the North Star.
Por todos es sabido que Mike Oldfield versionó el tema de Philip Glasstiulado Etoile Polaire bajo el título North Star para el disco Platinum de 1979, y las diferents melodías de la pieza de Glass se convirtieron en un motivo recurrente en infinidad de composiciones de Oldfield hasta nuestros días.
Durante un tiempo se especuló con que Dance to the North Star fuera un título provisional de la remezcla que el propio Mike realizó para la remasterización de Platinum de 2012, pero eran simples especulaciones.
Sin embargo, hace unos meses apareció una información que llevaba oculta casi 35 años: Dance to the North Star es una canción que Mike Oldfield y Anita Hegerland grabaron en 1986 para un single que nunca vio la luz.
La primera colaboración de la noruega Anita Hegerland con Oldfield había sido la canción Pictures in the Dark, publicada en 1985. Tras la publicación del álbum Discovery en 1984, Mike Oldfield bajó el ritmo de su producción discográfica, y hasta la publicación de Islands en 1987 apenas publicó un par de singles, Pictures in the Dark y Shine.
Se tenía constancia de que durante ese tiempo Mike había estado probando con diferentes cantantes infinidad de temas vocales, que rehacía una y otra vez, variando títulos, reescribiendo la letra... sin que la mayoría vieran la luz. De 1985 o 1986 se calcula que es la maqueta de When the Night's on Fire cantada por Barry Palmer (descargar).
En 1986, Anita Hegerland, con 11 discos en solitario publicados, estuvo a punto de publicar con Virgin Records un 7" con dos composiciones de Mike Oldfield: en la cara A, Dance to the North Star, una canción de la que no nos ha llegado más información hasta nuestros días, y una versión de Moonlight Shadow en la cara B.
Para Moonlight Shadow se usó la pista instrumental original y Anita grabó la voz en los estudios Polar de Estocolmo.
Se llegaron a prensar copias del testpressing en Suecia, con el número de catálogo 108 532. Por la fotografía, está claro que el single se iba a publicar directamente bajo el nombre de Anita Hegerland. ¿Por qué no prosperó el proyecto? ¿El testpressing quizá sólo fue para uso interno de la discográfica? ¿Dance to the North Star cambiaría de título y vería la luz más adelante quizás como Islands o When the Night's on Fire?