30 October 2018
10 Opinions
(Sent by fairlight)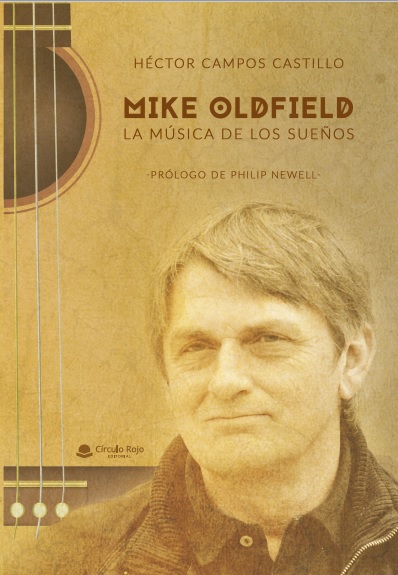 Tras casi 10 años de espera desde que se anunciara el proyecto, este mes de octubre de 2018 sale a la venta "Mike Oldfield, la música de los sueños", una biografía de Mike Oldfield escrita y autoeditada por Héctor Campos.
Así se describe el libro en la contraportada:
Cuarenta millones de discos vendidos y cincuenta años de carrera profesional definen a un genio. Un genio que revolucionó la historia de la música a los 19 años y no dejó de hacerlo el resto de su vida. Compositor, multiinstrumentista, productor, ingeniero de sonido… Y una máxima: dar siempre un paso adelante sin prejuicios. Por eso se ha atrevido a picotear en estilos tan diferentes como el rock progresivo, el pop, el folk, la música celta y sinfónica, el chill out o el techno. Desde su inmortal Tubular Bells hasta videojuegos pacíficos. Desde la inolvidable Moonlight Shadow hasta la estremecedora banda sonora de Los gritos del silencio. Su creatividad no tiene límites. Años de investigación y entrevistas a músicos y colaboradores (Philip Newell, Tim Cross, David Bedford, Julian Bahula, Phil Spalding, Terry Ilott, Peter Edmonds…) han llevado al autor de esta biografía a desgranar tema a tema la extensa obra de uno de los últimos genios vivientes de la música moderna. Con prólogo de Philip Newell, ingeniero de sonido de Tubular Bells, y más de treinta fotografías inéditas a todo color. Un apasionante viaje en el que comprobaremos cómo el arte salvó a un muchacho atormentado por las depresiones y las crisis existenciales y lo convirtió en un mago de la música. De la música de los sueños.
El libro cuenta con 600 páginas, un cuadernillo central con fotografías inéditas a color, y prólogo de Philip Newell, ingeniero de sonido durante los primeros años de la carrera de Oldfield.
El autor también ha abierto una web promocional desde el que se puede encargar:
Comment

"Man of the rocks título autodefinitorio de la situacion de Mike, las rocas de su refugio de ermitaño en las Bahamas, tal vez, Man of the beach.Temas cantados por un buen vocalista, hacia dispares direcciones con acierto variable. Aciertos en: Sailing (el comercial y pegajoso),Moonshine (su remedo de U2 guitar),Man of the rocks,Minutes (Popillo simpaticón) y la balada (me recuerda al the tide de Roger Waters) interminable en following the angels.El resto aburre: para un crimsoniano Nuclear es un remedo del Epitaph (mi tema favorito) de KC, no entiendo el hammond con overdrive en Castaway, y el...
more »
"
4/10
.
Skulling, 21/10/2018
Do you also want to write your opinion?